Routine Consumables: These are the printer parts that the printer will routinely go through. Some, like toner, will need replacement after several thousand pages, while others like the Fuser kit, will last about 100,000 pages before needing replaced.
Toner & Print Cartridges
Drums & Imaging Units
Transfer Roller
Fuser Kits
Cleaning Kits




Additionally, certain accessories can make your printing faster, more efficient, and accurate.
Extra Memory: We provide aftermarket Memory chips at a fraction of the OEM cost (typically about 50-75% off!). Extra Memory will speed up the processing time required for your printer to 'digest' the print jobs that you send.
Extended Warranty Service: Your printer comes with a 1 year, next business day repair service, but if the machine is "mission critical" to what you are doing, you might consider the extended warranty. For about the cost of one service call, you can cover your machine against breakdown expense for a full year.
Productivity Kit: Some printers can be outfitted with a Productivity Kit, which enables about 20GB of disk storage space directly on the mother board of the printer. This Disk can perform several tasks:
Storage of "Saved" Print Jobs: You can store any non-changing document that you may want to print repeatedly directly on the machine and then retrieve & it directly from the Control Panel on the printer without any PC intervention whatsoever. For example, you could "print" to the Hard Disk a large print job that needs to be performed on a day that you will not be present. Your fill-in doesn't need to know how to run the software or compile the job; they simply call it up through a simple menu on the front panel on the machine and print it....
Storage archive for redundant documents: You can also save W-2 forms, Employee Applications, Shipping forms, etc on the printer and print them on-demand from the control panel.
Job Pipelining: The presence of the hard disk enables a feature called Job Pipelining that not only speeds up printing but also lets you "stack" multiple jobs on the printer continuously. The printer writes the jobs to the hard disk and then retrieves them as the job becomes available to print.
Wireless Connectivity: Cut the cords with this Wireless Network Connectivity Kit.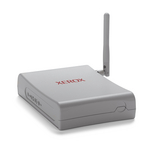 Cleaning Kit: If you print on Plastics, you need one of these! The Cleaning Kit consists of premoistened Anti-Static wipes, premoistened Alco-Wipes, and a can of Rubber-Rejuvenator, that cleans and restores the rubber rollers.